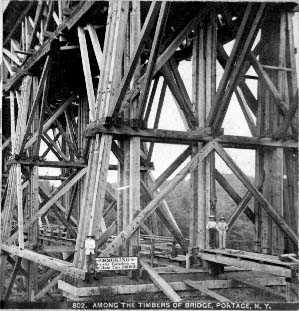 from the Cook Stereoview Collection
Stereoview
802. Among the Timbers of Bridge, Portage NY"
"Portage NY and Vicinity"
Unknown Publisher,
circa 1870
An interesting view of the wooden towers and walkways of the original Portage Bridge. The sign reads "SMOKING is Strictly Forbidden on or about This BRIDGE."
For more information, see the Glimpse of the Portage High Bridge.