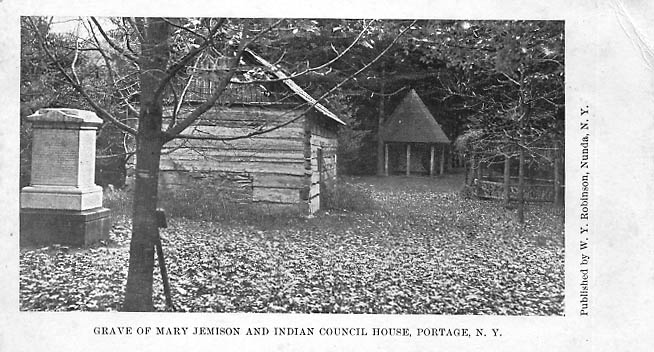 Postcard
Published by W.Y. Robinson, Nunda, NY
"Grave of Mary Jemison and Indian Council House, Portage, N.Y."
pre 1906
This postcard was taken on the Council Grounds when Mr. Letchworth was still alive. (This postcard has an undivided back which establishes the pre 1906 date). The visitor who purchased the card came after Mr. Letchworth's death - written on the back is "Dec 28, 1911; Jan. 6, 1912. There is a story about this place concerning and (sic) Indian and the lady named. Mr. R Nittrowe told story. Historical card."
The view was taken looking east across the grounds. The monument to the left is Mary Jemison's tombstone (the statue would be placed in 1910). The Caneadea Council House is toward the center with the rustic arbor and a section of the famous Big Tree beyond the Council House.