Ever since people began to visit the lands that are now Letchworth Park, the three Portage Falls have been an attraction. Just as the land itself has evolved from pioneer farms to a modern State Park, change has also taken place in the Upper, Middle, and Lower Falls of the Genesee at Portage.
The four photographs below are from the family photographs of Joyce Everingham of Arizona. Joyce, who once lived in Western NY, writes "These photos make an interesting comparison of the 3 falls in 1935 and now. In those days we used to walk out on the rock platform before (Upper) falls and get close to the falls. And we swam there too - as you can see a couple swimmers across the water in this picture. "(Don't do this today folks - against the rules!)
The two top photographs shows the Lower Falls (A) and the Upper Falls (B) with the Railroad Bridge just beyond it. The lower two photographs (C & D) are of the Middle Falls.
Not only do these images provide an interesting comparison with today's falls, if you visit the each of the falls in the Historic Photo Album, you can trace the changes in the three falls from the 1840's through the 20th century.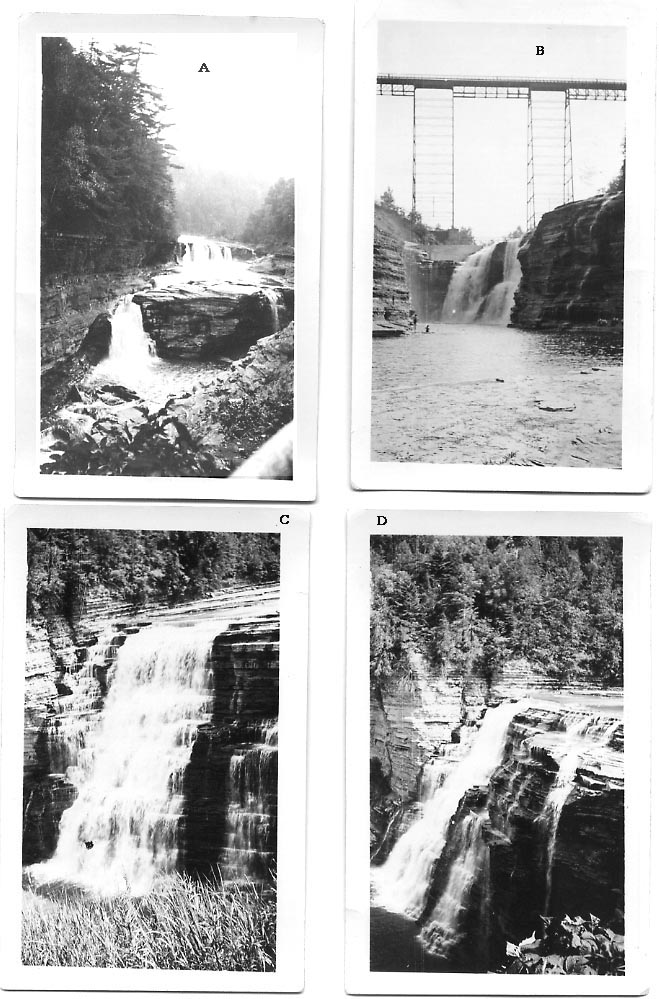 Black and White Photographs
Everingham Family Photographs, Arizona
1935
We thank Joyce Everingham for sharing these photographs with us!