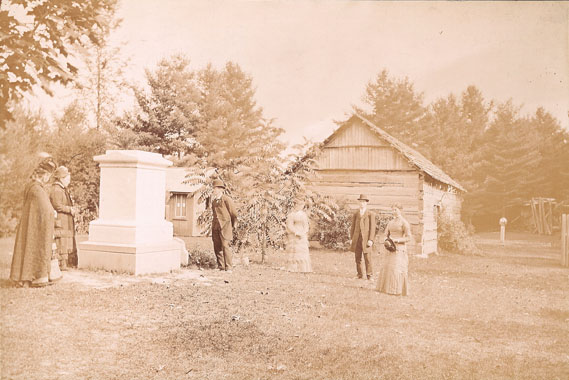 Sepia Photograph
Unknown Photographer
1880's
This photograph shows visitors on the Council Grounds sometime in the 1880's or early 90's. The visitors are studying the "new" gravestone that Mr. Letchworth had placed on the grave of Mary Jemison - it later became the base of the famous statue. If you look carefully, you can see the remnants of the "Old White Woman's" original gravestone behind the new marker and to the left of the gentleman's feet.
This view is similar to the Image 148. This view, however is taken along the other side of the Grounds, and shows the southern side of the Council Ground. You can see the ornamental "gazing ball" in the background and a rather unsightly pile of lumber. A few years later that will be the approximate location of Mr. Letchworth's portion of the "Big Tree" from Geneseo.
For other views of the Council Grounds, go to the photo index. For many years it was impossible to re-enact this photograph. After Mr. Letchworth's death in 1910 the Council Grounds underwent several changes - including the moving of the Council House away from the grave. Recently, as part of the Park's Centennial Celebration, a restoration project was undertaken which brought the Council Ground back its original Council Ground location.
A larger view of this image is found below.
Special thanks to our friend Karen Gibson Strang for sharing this remarkable photograph with us!