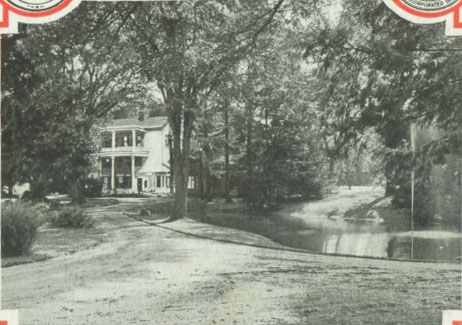 Postcard
"Glen Iris Letchworth Park"
circa 1915
We like to call this image our "mystery photo" of the Glen Iris. Part of a postcard showing the "best automobile routes" to the Inn, this view looks from the main Park road toward the Glen Iris. The pond and fountain are on the right. What is unusual about the photograph is the porch of the Glen Iris. Along the north side of the Glen Iris you see the porch roof that also served as a balcony for the third floor.
If you look carefully, there appears to be a roof over that balcony!
No other photograph seems to show that roof, and no records of such an addition have not been found. Perhaps the roof was temporary, or is just an illusion in the image. There is also the possibility that the original photograph was altered for the postcard. Compare this to a similar view taken about forty years later.
See our Pieces of the Past for a look at the entire postcard.