Glimpses of the Past
People, Places, and Things in Letchworth Park History

Henry Kirke Bush-Brown
Sculptor
1857 - 1935
Creator of the Statue of Mary Jemison in Letchworth Park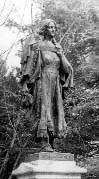 The Mary Jemison Statue is one of the most visited landmarks in Letchworth Park. But few who see this statue of the "White Woman of the Genesee", know of its creator, the sculptor Henry Bush-Brown.
He was born in Ogdensburg NY on April 21, 1857 to Robert W. and Caroline Bush. When he was eight, he was adopted by his mother's sister, the wife of the famous sculptor Henry Kirke Brown, hence the compound name. Fascinated by his Uncle's work, he spent much time in the studio at Balmville, near Newburgh NY.
An article in "Contemporary American Sculpture" that was found in the public library of Newport, Rhode Island states that Henry Kirk Bush-Brown studied with his uncle at the National Academy of Design, New York and studied for three years with Antoine Mercie at the Academie Julien and also in Italy. He was a member of National Sculpture Society; Architectural League of New York; National Arts Club; and the Philadelphia Art Alliance.
Bush-Brown became known for his representation of American themes. Fifteen statues that he created are listed in the piece. One of his famous ones is the bust of President Lincoln that adorns the Gettysburg Address monument at the main entrance to the National Cemetery at Gettysburg Battlefield in Pennsylvania. Also at Gettysburg stand his statues of Generals Meade, Reynolds, and Sedgwick on the Gettysburg battlefield.
Henry became interested in Native Americans during his work on a large group entitled "The Buffalo Hunt" which was shown at the Columbian Exposition. Accuracy in detail was very important, so to help him with the work he brought East Lone Wolf, a young man of the Blackfoot People, along with a buffalo and an Indian pony.
Because of his interest in American history, it is not surprising that the sculptor became an active member of the American Scenic and Historic Preservation Society.
It appears likely that Mr. Letchworth met Henry through his contacts with the Society.
Ever since Mr. Letchworth had brought the remains of Mary Jemison back to the Genesee Valley in 1874, he had hoped to erect a statue over her resting place. Now that he had met the perfect artist for the job, he could actually make this dream come true and honor the memory of "Dehgewanus". (see Mr. Letchworth's Letter on Mary Jemison Statue)
Mr. Letchworth wrote, "Mr. Bush-Brown spent much time in studying his subject", and we know that he also visited Mr. Letchworth at his new Park. In an article in "Historical Wyoming" written in 1986 by Mr. John G Wilson, (better known to his friends as "Gib"), we learn of correspondence and a personal visit to Lydia Bush-Brown Head the daughter of the sculptor.
Lydia met Mr. Letchworth twice and apparently stayed at Glen Iris while her father was arranging to work for Mr. Letchworth on the statue. She said that Mr. Letchworth had borrowed an Indian costume and she modeled it for her father so he could get the idea of how the costume moved when worn. Lydia reported that the model for the statue was probably a young woman from Balmville or Newburgh, but the head was from her father's imagination, and knowledge of anatomy. She also stated that her father enjoyed working on the statue of Mary as a break from Civil War heroes on horseback wearing uninteresting uniforms, although he loved horses and that work was a pleasure for him.
The statue was completed in July 1910 and was approved by Mr. Letchworth, Dr Arthur Parker (a Seneca who was head of the Archaeological Department of the New York State Museum), the National Sculptors Society, and by a committee of the American Scenic and Historic Preservation Society. (See Description of the Mary Jemison Statue)
The statue was mounted on the marble base and dedicated at a ceremony on September 17, 1910. Mr. Bush-Brown could not attend, but sent a letter that was read at the dedication.

Signature of Henry Kirke Bush-Brown, 1910 on base of Jemison Statue
photo by Tom Cook
In the same year that he created the Jemison Statue, Henry moved his family to Washington DC. He continued to produce a number of works, including the statue of Justinian, Appellate Court Building NY; the Memorial Arch at Stony Point; the Memorial Fountain, Hudson NY; and several others. He also wrote a book about his uncle "Life and Letters of Henry Kirke Brown, 1814-1886 and Lydia L. Udall, his Wife."
As the Dictionary of American Biography states, "Inherently Bush-Brown was not only an artist but a reformer. He always had some measure for the betterment of mankind in mind, which at the moment, he zealously advocated. Invariably optimistic, genial, and friendly, he was not one to give or take offense. His life spanned the development of American sculpture from the first sitting of nationalistic consciousness to the complete realization of American ideals, and his works may be regarded as mile-posts along the way."
Bush-Brown lived out his life in our Nation's Capitol, and died at age seventy-eight. He is buried in Memorial Cemetery, Arundel, Md.
So, thanks to the dreams of William Pryor Letchworth and the talents of Henry Kirke Bush-Brown, we have the famous Mary Jemison Statue that visitors to Letchworth State Park admire, photograph and remember.
Tom Breslin
Tom Cook
August 2001
Sources
Dictionary of American Biography, Supplement 2 pp 143-144
Historical Wyoming, Vol XXXIII No.2, October 1986, published in Warsaw NY by John G. Gibson, Wyoming County Historian
Larned, William Pryor Letchworth
Seaver, Life of Mary Jemison, 1946 ed.
Return to Glimpse Index
Return to Table of Contents

all rights reserved by Tom Cook and Tom Breslin