Glimpses of the Past
People, Places, and Things in Letchworth Park History

Gibsonville
An early village on Silver Lake Outlet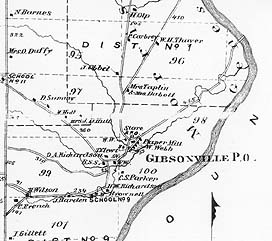 from Town of Leicester, Livingston County Atlas, 1872
(click on map for closeup of village)
As you drive north from the Highbanks Camping, you will pass a marker for a place called Gibsonville. There is not much there now, but it is a place with a colorful past, for it is one of the Park's two "Vanished Villages".
Ebenezer Allan, or Indian Allen, as he was commonly called was reputed to be "a man of bad character, one of the Tories of the revolution, and cunning as well as wicked." Thus Mildred Anderson quotes Doty's History as she begins her booklet giving the history of Gibsonville. Her well illustrated work ascribed the name "vanished village" and it has remained in recent times to refer to the settlement whose first settler, in the 1790's, was apparently the infamous Indian Allan hiding from the Indians and New Jersey authorities who sought him because of crimes.
A more permanent resident was Henry B. Gibson, hence the name, and the water power from the creek was the motivation for Allan and those that came after him. (Today trail 19 explores the vicinity of the village) Mrs. Anderson writes that the village consisted of 16 houses, a store, postoffice, blacksmith shop, schoolhouse and gristmill. In the 1840's the grist mill was converted to a paper mill which made fine paper using remnant rags from the Perry knitting mills. The mill burned in l894 and was not rebuilt.
The village gradually faded from the records and was finally gone by the time the land was acquired as part of the park. In 1933 the area was occupied by a CCC Camp with numerous buildings to house the corps members. The landscape was changed markedly by road and bridge construction and today the remaining evidence of Gibsonville is the chimney of the CCC dining hall and, a short distance south, one remaining residence that houses the Camping Area Caretaker at the Perry Entrance. This is known as the "Littledyke House" for one of the families still in residence when the State acquired the land for park purposes.
Gibsonville lives on in memory and as a landmark in the Park.
Sources
Anderson, Gibsonville
Tom Breslin
Return to Glimpse Index
Return to Table of Contents

all rights reserved by Tom Cook and Tom Breslin