Glimpses of the Past
People, Places, and Things in Letchworth Park History

Civilian Conservation Corps
When the economic crash affected this country in the late 20' and early 30's this program was established to put people to work. Most were young adults. They lived in camps built all over the nation to house them. Most camps had a military style layout and were supervised by the Army. Most of their projects were the creation of park facilities. One criterion for camp establishment was availability of raw material -- thus Letchworth park was equipped with a sawmill and various stone quarries so the natural resources on site could be utilized. The chestnut blight had just devastated the forests of the east and salvage timber was everywhere.
Letchworth had four camps with about two hundred enrollees in each. Lower Falls was at the present day location of the Lower Falls swimming pool. St Helena was at the lower level picnic area at present day St. Helena area. Another camp was at the area known as Gibsonville and signed as such in the present day park. The fourth camp was on the east side of the river where present day " E Cabin" area is located.(See camp photograph)
The work done by these crews of enthusiastic young men almost 70 years ago is still a vital part of the park infrastructure. Road systems, picnic areas, stone walls and cabin areas are a product of the "CCC" as it was commonly called. Some of their work has been updated and modernized with with such things as indoor plumbing, electricity, pavement and the like to render it acceptable and useful in todays recreational climate. (See CCC work in Letchworth Park)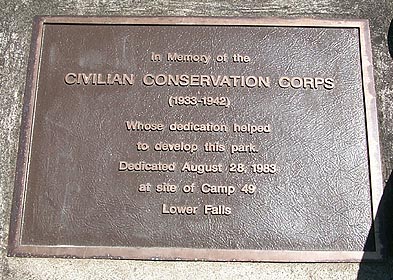 Plaque on CCC Monument, Lower Falls
photo by Tom Cook
Visit the Lower Falls area and in front of the South Pool you will find a monument to commemorate the work of the CCC. (Shown above) This was dedicated by Parks Commissioner Orin Lehman at a special dedication ceremony in 1981 to note the 50th anniversary of the CCC. An exhibit in the Museum about the CCC by Tom Cook of the Letchworth History Program drew the attention of former CCC crew members in such numbers that a reunion was planned. The reunion was a great success and led to formation of an informal group that began having meetings every year to gather and reminisce about those "good old days".
The Museum is a repository of many artifacts that relate to that period of park development.
As the country began to recover from the economic slump and World War II demanded a huge military response the CCC program was phased out.
Subsequent youth employment programs were instituted by the Federal and State governments but none achieved the level of productivity of the CCC.
A statue honoring the men of the CCC was recently erected in Letchworth Park near the Lower Falls.
Tom Breslin
Return to Glimpse Index
Return to Table of Contents

all rights reserved by Tom Cook and Tom Breslin