Glimpses of the Past
People, Places, and Things in Letchworth Park History

The Letchworth School House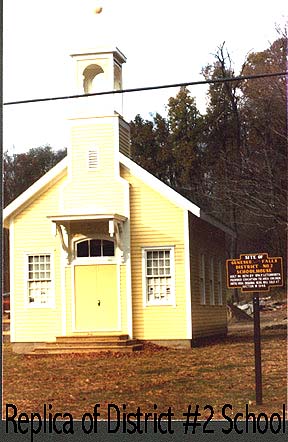 Photo by Tom Breslin
On Trout Pond road visitors will observe what appears to be an old fashioned one--room school house. This building is a replica of the structure that William Pryor Letchworth designed and financed for the school district, and it stands on the original site. It serves as a warehouse for the park concessionaire.
Mildred Lee Hills Anderson was a pupil in this school while growing up on the family farm in the vicinity of present day Lower Falls Pool, and she published a pamphlet titled,"School Days in Genesee Falls", about the original school system in the area.
Mrs. Anderson's research reports school activity in 1835, some 24 years before the influence of Mr. Letchworth was felt in the area. The school house that existed at that time was on the left side of the road on the hill going down toward Glen Iris. A rather precarious location but Mrs. Anderson reports she was assured by a man from Nunda that there were logs along the river bank to prevent the children from falling over.
By the 1870's there were as many as 79 potential pupils between 5 and 16 years of age living in the area and there was talk of a new school. Mr Letchworth was a trustee at that time and apparently decided the hill location was a dangerous one with no room for the youngsters to exercise. At a Trustee meeting on April 19, 1873 he proposed to build a new school house for the district and charge one thousand dollars for the use of the land and the building. Mrs Anderson reports from personal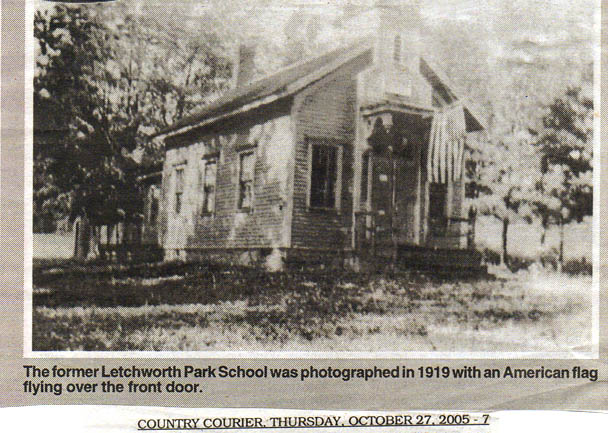 knowledge that Mr. Letchworth purchased many books and an organ for the school and gave students gifts at Christmas, such as silver spoons which are treasures. After the State of New York took over the park and the number of students declined to the point that it made more sense to transport pupils to Castile.
The school remained in use until 1934. The building was sold at auction in 1948 and was torn down by the purchaser who used the lumber to renovate another one room school house that was also purchased from the school district for conversion to a residence.
The site was subjected to an archeological dig by the University of Rochester and an interesting report was published that describes the work, the artifacts, and the evidence that was used to confirm the location of the original building.
Also see a photograph of the school in our Historic Photo Album.
Sources
Tom Breslin
Return to Glimpse Index
Return to Table of Contents

all rights reserved by Tom Cook and Tom Breslin