Pieces of the Past
Artifacts, Documents, and Primary Sources
from Letchworth Park History

A Walker Stereocard Label
circa 1875
One of the best sources of historical information are stereoptican views. These photographs provide wonderful glimpse into Letchworth Park's past. The majority of views in our Historical Photo Album are taken from stereoviews.
They were more than just souvenirs for tourists. In the days before television or even photographs in newspapers and magazines, stereoviews allowed the common man to see images of people and places and things the average person would never see. They were sold by the millions!
Although the dual images on the face of the card are the most significant part of a stereoview, one should not forget look at the back. Although some stereocards are blank on the reverse, many bear imprints or paper labels which can provide interesting information.
A good example is the one found below. This label was pasted to the back of a stereo view by L.E. Walker, one of the leader publishers of Portage views. This back list contains an advertisement for Walker's views, a short catalog of some specific views, and an interesting description of the "New" bridge.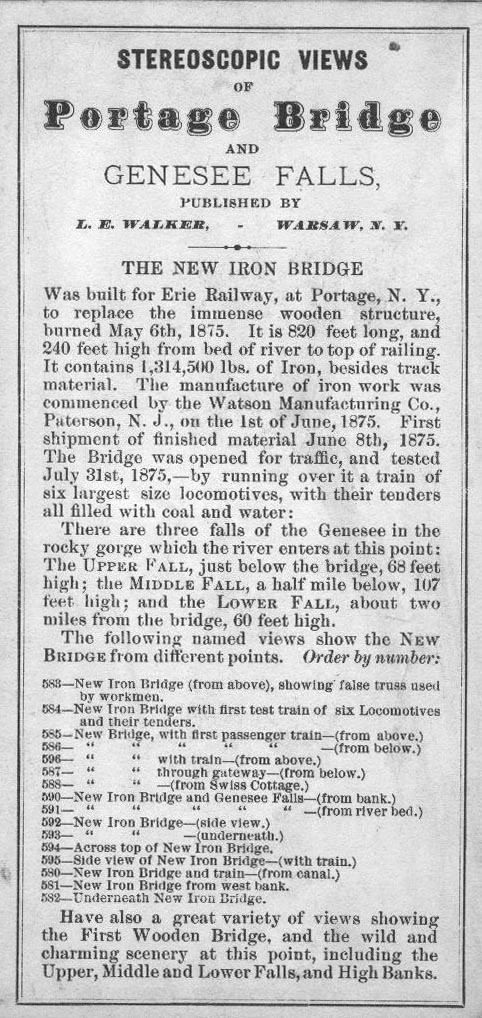 Wouldn't you love to be able to place an order?
Also see our Glimpse of Lewis E. Walker
Return to "Pieces" Index
Return to Table of Contents

All rights reserved by Tom Cook & Tom Breslin