Glimpses of the Past
People, Places, and Things in Letchworth Park History

Lewis E. Walker
Early Photographer and Stereo Maker.
Lewis E Walker, of stereo view fame, was born in Warsaw, NY on May 15, 1826 at the corner of Main and East Court Streets where the public library stands today. He attended schools of the village, one of which was on Genesee Street and also housed the Masonic Lodge at the time.
It is said that as a boy Lewis helped sort the cobblestones that were used to construct the new school house that is now the Masonic Temple in Warsaw.
When 16 in 1842 he made his first trip to Rochester in a lumber wagon for the purpose of bringing back leather for the harness making shop operated by his father. In 1848 he made his first trip to Vermont by stage to Cuylerville, to Rochester on the Genesee Valley Canal and then the New York Central to Syracuse, Schenectaday and Troy where he again went by boat on the Whitehall Canal to Mechanicsville and Whitehall and then by boat on Lake Champlain to St Albans. While in Vermont he taught school as he had in district schools in the vicinity of Warsaw.
In 1854 he had returned to Warsaw because of the illness of his father. He operated a book and stationery store in Warsaw for nearly 50 years which carried an extensive line of stereoscope cards. His son William was associated with him in the store which closed in 1901. For several years Walker had the exclusive right to make and sell photographs at Chautauqua and was well acquainted with Bishop Vincent and other leaders of that institution.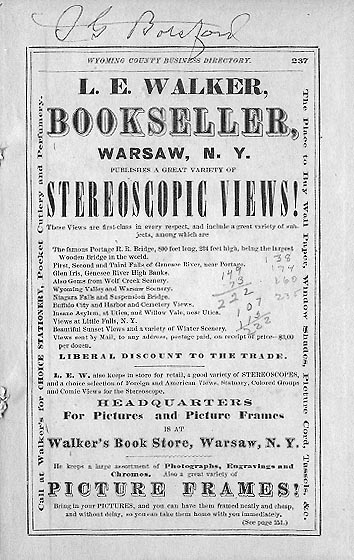 Advertisement from 1870 Wyoming County (NY) Directory
Walker helped organize the Warsaw Congregational Church and he was very active in church affairs including the building committee that erected the present building in 1866-1867 which is the north chapel of the United church on the corner of Main and Buffalo Streets. He claimed to have voted in every Presidential Election from 1847 through 1916
Copies of his pictures reveal that he traveled widely through Western New York photographing scenes at Chautauqua and along the Erie Railroad. The ones along the Erie are among his most famous with Letchworth and the Genesse River as his focal subject.
This information is extracted from an article in "Historical Wyoming" dated October 1963 which credits Mr Lewis H. Bishop of Warsaw with providing the information as gleaned from newspaper clipping and from relatives of Mr Walker living in Rochester at the time.
Tom Breslin
June 2004


For some examples of Walker's work, browse our Historic Photograph Album - images 2, 4, 17, 18, 20, 27, 29, 46, and 70 just a few of his many Park views.You can also see a copy of a back label from one of his stereoviews.
Return to Glimpse Index
Return to Table of Contents

all rights reserved by Tom Cook and Tom Breslin