Glimpses of the Past
People, Places, and Things in Letchworth Park History

The Legend of
The White Deer of Letchworth Park
For many generations visitors to Letchworth Park have delighted in the story of Mona-sha-sha, better known as the Legend of the White Deer.
Whether the story was first told by the Seneca who lived at Deowesta is not known, but a poetic version of the legend by Mr. Letchworth's friend W. H. C. Hosmer was included in the Voices of the Glen. Local residents living on or near the Glen Iris Estate also passed the story about the white deer and the Middle Falls on to their children, which is probably where Mildred Anderson heard it. She set down the following version in her history of the Park.
"The Indian legend of Mona-sha-sha lends an air of tragedy to the beautiful Glen with the famous waterfalls. The hunter, Joninedah, brought his wife and child to a temporary home when the hunting was good, but days of hunting brought no success. Mona-sha-sha tried to cheer him and fished and gathered berries while he was away. After a long hard day, he came home in despair that the evil eye was upon him. He failed to respond to the smiles of Mona-sha-sha. Feeling that he no longer loved her, she waited until he fell asleep, then strapping her babe upon her back , stole out into the night. Far above the (Middle) Falls she found her bark canoe, and slipping silently down the stream, was dashed over the waterfall.
Joninedah awoke to find her gone and hurried outside. Following her trail to the water's edge, he saw that the canoe was gone. A white doe and fawn darted by, and the grief-stricken brave said the spirit had spoke of the dead. Plunging his knife into his breast, he joined his wife and child in death."
One of the things that makes this story so popular is the fact that, about once a generation, a white deer such as the one below has been seen in Letchworth Park.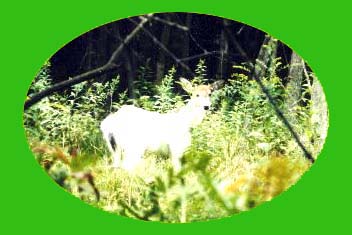 Photo Taken 1987 by Tom Breslin near the Trout Pond

Could it be the spirit of Mona-sha-sha ?
Tom Cook 12/2000
Sources:
Anderson, Genesee Echoes p 26
Voices of the Glen pp 38-46
Return to Glimpse Index Return to Table of Contents

all rights reserved by Tom Cook and Tom Breslin